I-Beams and Infinity
Joe Buck, Trucker Extraordinaire
by Rick Beck



Joe Buck, American Trucker
Drama
Bad Weather Driving
Rated G

Proudly presented by The Tarheel Writer - On the Web since 24 February 2003. Celebrating 20 Years on the Internet!
Tarheel Home Page

It was January in Ohio and as brutal as January often comes to Ohio, it was deceptively comfortable when I stopped to eat at the Texaco Truck Stop. It wasn't a place I usually stopped. It was one of those sprawling complexes that was filled with trucks and they were always lined up to come in and go out. I had driven from Washington D.C., and it was getting dark, and it was time for a break, and so I took it there.
I don't remember much about the meal but at least I didn't remember it as being horrid. I took my hour, stretched my bones, and headed back to the truck to finish my drive into Fort Wayne, Indiana, headquarters of North American Van Lines, the company I leased my truck to. I'd leave my vehicle there for service, take the shuttle to the airport, fly the puddle jumper to Columbus, and catch a flight home.
There was no sense that anything out of the ordinary was going on. I did feel the chill in the air and I hitched up my coat before I reached my truck. I looked up at the black sky and read nothing in it. Once I'd fired up my engine, I headed back to Route 80 and headed West.
The rain started as I worked my way up the ramp onto the Interstate. The traffic was light and it was a little after six. Everything was running well and I looked forward to finishing the trip. The only thing unusual was that I was pulling an empty trailer, or deadheading in trucker speak. Since I would be without the truck until I decided to go back on the road, I was positioning the trailer at the depot in Fort Wayne where it would do the most good. While it seemed like a good plan, it was a bad idea, under the conditions I was about to encounter.
The rain quickly turned to sleet and it was light enough that it only smeared my windshield when I used the wipers. I was a good driver and I drove in all kinds of weather. This wasn't a big deal and I never suspected any danger. I kept my speed down as I moved West.
I'd started seeing the signs for Zanesville just before seven. The sleet had increased. I remembered a restaurant with truckers parking at the Zanesville exit. I would pull off there, get some coffee, and check the weather. It's the kind of thing you do in Ohio in January.
I came to a long straight stretch of road with a bridge that crossed a deep ravine and then the highway curved gently left. You feel a jackknife coming through the steering wheel with your hands. This feeling comes because the tandems on the back of the trailer are no longer following the truck. They are going out on their own, so to speak.
I sensed the change but couldn't immediately see the trailer was about to pass the truck. If you catch it in time, before it gets out of line by more than 22%, half of a 45% angle, you can accelerate and the truck moving faster will pull the trailer back in line behind it. It's about physics and momentum but in this case it was about a jackknife that was about to happen.
The trailer was pushing the truck by the time I was working on getting it back behind me. Because it was empty, it got beyond allowable parameters in the same instant I saw it coming around, and there is no more frightening moment for a trucker, than the one in which he notices his trailer is about to pass him. I knew by the feel of the wheel, it was out of my hands, but I stayed with it because weird stuff happens.
Once the trailer had pushed me onto the shoulder, the front of the truck climbed the guardrail, giving me an excellent view of the severe drop below. The crunch and grind of metal against metal created a miserable sound. I road along because there wasn't an option. I would go where the trailer took me until it stopped. Even at forty-five miles an hour, on ice it takes forever to stop, even with the help of a guardrail.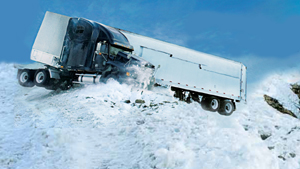 My only tool left was the break, which might or might not still be connected to the trailer, but I pumped it gentle, trying not to let the crazy ride get to me. There was a sudden jolt. A collision with a road sign, which announced the upcoming rest area at mile marker 182. The big green sign folded up as I drove through it. When I came to rest, part of the sign had penetrated the windshield and a four inch by four inch I-beam was still moving up and down. It was so close to my forehead, I could feel its presence, as I looked up at it.
A fraction of an inch made all the difference to me. So, when someone tells you, an inch here, or there, doesn't matter, I'm hear to say, a half inch was enough to save my life, and if it wasn't the difference between life and death, it was the difference in me getting a frontal lobotomy.

All you four-wheelers remember, keep the shiny side up and the rubber side down.
I'll catch you on the flip flop.

Joe Buck


Email the Author at rickbeckwritersrealm@outlook.com

More Joe Buck Tales

Rick Beck Home Page



"I-Beams and Infinity" Copyright © 18 August 2008 OLYMPIA50. All rights reserved.
This work may not be duplicated in any form (physical, electronic, audio, or otherwise) without the author's written permission. All applicable copyright laws apply. All individuals depicted are fictional with any resemblance to real persons being purely coincidental.