Keith's Pictures
by Rick Beck

Teen & Young Adult
Sexual Situations
Drama

"Most guys won't pick up hitchhikers any more ... unless they want something. I was lucky." He glanced my way when he paused. "I was only out there for five minutes. Lucky for me you came."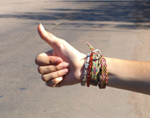 >


The Tarheel Writer - On the Web since 24 February 2003. Celebrating 20 Years on the Internet!
Tarheel Home Page


Chapter One
"untitled"

Chapter Two
"Home"

Chapter Three
"Pizza & Beer"

Chapter Four
"What Makes Keith Run"



Email the Author at rickbeckwritersrealm@outlook.com

On to Chapter Two

Chapter Index

Rick Beck Home Page




"Keith's Pictures" Copyright © 2002 OLYMPIA50. All rights reserved.
This work may not be duplicated in any form (physical, electronic, audio, or otherwise) without the author's written permission. All applicable copyright laws apply. All individuals depicted are fictional with any resemblance to real persons being purely coincidental.