Rising Affairs
by Rick Beck


Teenagers
Sexual Situations
Drama




The Tarheel Writer - On the Web since 24 February 2003. Celebrating 20 Years on the Internet!
Tarheel Home Page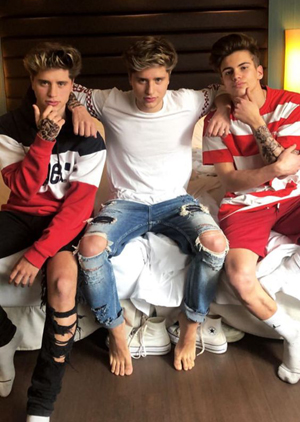 Three boys on a bed could be the beginning of most gay erotic stories. You have all the elements for lust, sex, and the inevitable questions that come from such teenage encounters when friends start to share their feelings. With a hot book, Teacher Tutors Her Boys, Billy has brought for them to read the door opens to the teenage world of sexual exploration.

"I can't read any better than you can," Billy said. "Hey, Craig, you read it to us. Then I can concentrate on the action. You're on the honor roll, don't cop out on us. We need your reading skills to get the maximum benefit from this rare erotic literature that has only recently come into my possession."

Chapter One
"The Reader"

Chapter Two
"Spanking the Monkey"

Chapter Three
"Car and Driver"

Chapter Four
"Billy Sells Out"

Chapter Five
"The Real Deal"


Rick Beck Home Page




"Rising Affairs" Copyright © 1999 OLYMPIA50. All rights reserved.
This work may not be duplicated in any form (physical, electronic, audio, or otherwise) without the author's written permission. All applicable copyright laws apply. All individuals depicted are fictional with any resemblance to real persons being purely coincidental.