East on St James
by Rick Beck
Edited by Jerry W
For David


Young Adult
Drama
HIV+




Proudly presented by The Tarheel Writer - On the Web since 24 February 2003. Celebrating 20 Years on the Internet!
Tarheel Home Page


When people cooperate, there is no limit to what they can accomplish. Take an attorney, Dury, newly retired, and a chef and vagabond, Keith, and put them together ... well you'll see what they come up with.
As unlikely as it seems, this meeting takes place over a tuna sandwich on a bench in a North Charleston park.
It's all it takes for a beautiful friendship to begin.
Dury is straight. Keith isn't. Keith is HIV+. Dury isn't. This has little to do with the story, but it's where we start.
Dury has spent his life practicing law in New York City and Charleston, South Carolina. He is a well-to-do successful attorney. Keith doesn't think in terms of being successful. He likes to cook. As long as he can cook, he's happy. Happiness is good.
Keith learned the tricks of his trade on the road. His longest lasting job was as chef for a New Orleans restuarant. He went from prep crew to chef, being taught by a master.
What you have when you put Dury and Keith together is chemistry, and just maybe, a little bit of magic.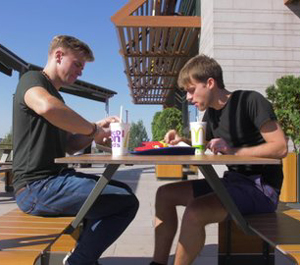 Chapter 1
"To Retire"

Chapter 2
"Essentials"

Chapter 3
"Appetizer"

Chapter 4
"Lasagna"

Chapter 5
"Rattle Those Pots and Pans"

Chapter 6
"Home Sweet Home"

Chapter 7
"Reach and Grasp"

Chapter 8
"Other Half"

Chapter 9
"Dreaming"

Chapter 10
"J. Edgar and King"

Chapter 11
"Less Than Civil"

Chapter 12
"Silent Night"

Chapter 13
"Making a Comeback"

Chapter 14
"Plans"

Chapter 15
"Moving Day"

Chapter 16
"Final Piece"

Chapter 17
"Welcome to Pleasant Valley"

Chapter 18
"Rooms for Rent"

Chapter 19
"Interview"

Chapter 20
"The Fisherman & The Storyteller"

Chapter 21
"Boys Will Be Boys"

Chapter 22
"The Takeaway"


Rick Beck Home Page




"East on St James" Copyright © 2016 OLYMPIA50. All rights reserved.
This work may not be duplicated in any form (physical, electronic, audio, or otherwise) without the author's written permission. All applicable copyright laws apply. All individuals depicted are fictional with any resemblance to real persons being purely coincidental.