Taz & Kodak
Part Two - Montana Sky
by Rick Beck

For David
Thank you Tracy for loving words and encouraging me to write them.
Edited by Jerry

Adventure
Rural Montana
Rated 13+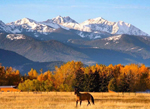 Proudly presented by The Tarheel Writer - On the Web since 24 February 2003. Celebrating 20 Years on the Internet!
Tarheel Home Page