The Gulf of Love
Part Two of The Gulf Series
The Story of Ivan and Clay
by Rick Beck

Young Adult
Drama
Sexual Situations


Proudly presented by The Tarheel Writer - On the Web since 24 February 2003. Celebrating 20 Years on the Internet!
Tarheel Home Page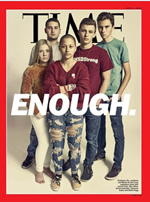 The Gulf series is dedicated to the young men and women of Marjory Stoneman Douglas High School, Parkland Florida. You are the tip of the spear piercing the shield the demagogues hide behind. Courage, with poise, while under fire, creates legend. Thanks for standing up to be counted.

Peace & Love,
Rick Beck

Prologue

The Gulf of Mexico was the perfect place for Clay Olson and Ivan Aleksa to finish growing up. Uprooted from the only home he knew, it didn't take Clay long to realize, in spite of losing his lifetime friends, he'd ended up in paradise, and he was going to make the most of it.
Ivan, content in the house his grandfather built on the beach, never intends to leave, but does, when his brother is lost. When Clay tells Ivan, 'You're the only one who can find him.' The Gulf of Love becomes embroiled in a tale of Clay, earning his stripes as a marine biologist, while Ivan searches for Boris.
Love is never easy and rarely simple. In this case it strains love to the braking point as our two heroes are in different places doing what they're desitened to do.
Clay has his family, Sunshine, and Dylan to sustain him while he waits for Ivan. For the most part Ivan is on his own and doing his best to gather enough information to make the trip to Southeast Asia advisable, but a trip into a war zone is never advisable, especially when you're on your own.
Clay waits. Ivan searches. Dylan grows, while Harry juggles his interests to get the outcome he wants for his budding marine biologist, never knowing if it will turn out OK in the end.


Note: It is suggested the reader start with book one in order to immerse oneself in the entire experience.


Chapter 1
"Dylan, Pop, and Me"

Chapter 2
"Harry & Me"

Chapter 3
"Surprise! Surprise!"

Chapter 4
"The Searcher"

Chapter 5
"Improvise"

Chapter 6
"About Boris"

Chapter 7
"Sunshine in the Rain"

Chapter 8
"Partly Cloudy"

Chapter 9
"Sun Shines on Clay"

Chapter 10
"Overcast"

Chapter 11
"A Long Goodbye"

Chapter 12
"Stabilizing"

Chapter 13
"In the Wind"

Chapter 14
"A Year Older"

Chapter 15
"Walking on Eggshells"

Chapter 16
"War, Peace, & Love"

Chapter 17
"The Buck Stops"

Chapter 18
"Dylan's World"

Chapter 19
"Sassy in Tallahassee"

Chapter 20
"The War is Over"

Chapter 21
"Being Read"

Chapter 22
"Daddy's Home?"

Chapter 23
"Chiefs & Indians"

Chapter 24
"The Underbelly"

Chapter 25
"Talkers and Listeners"

Chapter 26
"Fishing and Diving"

Chapter 27
"Fish Finder"

Chapter 28
"Hard Days Passing"

Chapter 29
"Career Move"

Chapter 30
"Making Hay"

Chapter 31
""Lord of the Flies""

Chapter 32
"Friendship"

Chapter 33
"Bears and Bees"

Chapter 34
"Pirates"

Chapter 35
"As Reefs Go"

Chapter 36
"Owning the Cove"


Rick Beck Home Page




"The Gulf of Love" Copyright © OLYMPIA50 1 March 2017 All rights reserved.
This work may not be duplicated in any form (physical, electronic, audio, or otherwise) without the author's written permission. All applicable copyright laws apply. All individuals depicted are fictional with any resemblance to real persons being purely coincidental.
Presented on Tarheel Writer with the express permission of Rick Beck.